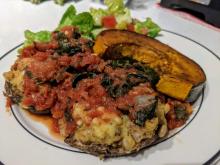 Firstly, you can use any mushroom for this, even a flat mushroom if you want to balance the polenta precariously on top of it.
This recipe looks very impressive on the plate, and the roasted mushrooms go delicious and juicy.
I've put instructions for cooking polenta, but you should probably follow the ones on the packet you bought.
I make this without oil, if you want to add oil, I don't see anyway I can stop you, without you at least.