Sex without love is an empty experience, but, as empty experiences go, it's one of the best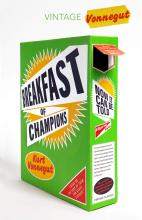 In my opinion this is a literary masterpiece.
The genius of the writing, where reality and the book blur, is something I've never experienced in a book before. I was taken on a mental trip where reality seemed unstable for a moment. On the back of the book, the New York Times has said "Vonnegut performs considerable complex magic...he very nearly levitates", and I couldn't agree more.