I wonder if we could contrive...some magnificent myth that would in itself carry conviction to our whole community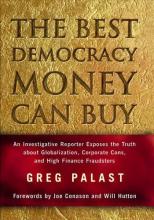 "The Truth About Corporate Cons, Globalization and High-Finance Fraudsters".
Greg Palast proves two things with this mind-blowing book (John Pilger said "This information is a hand grenade"). Firstly that investigative reporting isn't dead, secondly that it is the sort of reporting that really matters.