Greed and competition are not the result of immutable human temperament; greed and fear of scarcity are in fact being continuously created and amplified as a direct result of the money we are using. We can produce more than enough food to feed everyone, and enough work for everybody in the world, but there is clearly not enough money to pay for it all. The job of the central banks is to create and maintain this scarcity, and the direct consequence of this is that we have to fight with each other in order to survive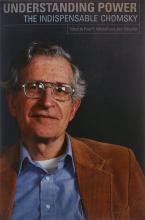 Noam Chomsky is the author I have read the most books from in the last few years.
Brilliant, articulate, compassionate, well researched, insightful, he has inspired a generation of activists and enraged a generation of those who have grown fat from the status quo. In a world where everyone was involved in a vibrant discussion of ideas, he would be a household name.