Trees are poems that the earth writes upon the sky. We fell them down and turn them into paper that we may record our emptiness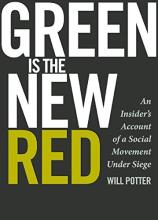 I was lucky enough to see Will Potter speak as part of the Voiceless lecture series in 2014, and thus I have a signed copy of this import book.  
Throughout its pages, he sets out how the environmental and animal rights movements have been demonised by a capitalist, political and social world that sees them as a threat to their continued profitable existence.