At least 150,000 anthropogenic or human made chemicals at a total that increases by 2,000 each year end up in the oceans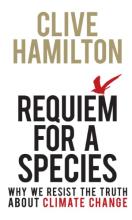 As has been said, we are sleep-walking to the edge of a cliff.
I don't know what to do with the information contained in this book.  I almost envy the people who can dismiss the terrible truth of what we are doing to this planet with hand waving statements like "Science doesn't know everything", who go about their small daily lives as if only they and their social circles matter.