The workers have nothing to lose but their chains. They have a world to gain. Workers of the world, unite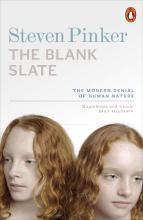 Nature or nurture? It is obvious to most people with even a brief understanding of the science that we are a complex combination of the two. Pinker sets out the evidence here that nature is far more compelling than most of us realise and it is difficult not to agree with him.
What really stood out for me from the book was the political implications of the discussion.