There are only four questions of value in life. What is sacred? Of what is the spirit made of? What is worth living for? What is worth dying for? The answer to each is the same. Only love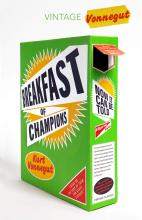 In my opinion this is a literary masterpiece.
The genius of the writing, where reality and the book blur, is something I've never experienced in a book before. I was taken on a mental trip where reality seemed unstable for a moment. On the back of the book, the New York Times has said "Vonnegut performs considerable complex magic...he very nearly levitates", and I couldn't agree more.