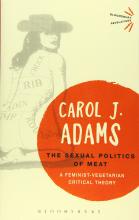 Subtitle "A Feminist-Vegetarian Critical Theory".
I'd always meant to read this book, one of the more famous in the Animal Rights movement, but only got around to it after my wife purchased a copy. I'm not sure what that says, but moving on...
I now understand why this is such a classic in the movement. It has a tone and a style which can be difficult at times, but this makes you do the work of understanding it which is no bad thing.