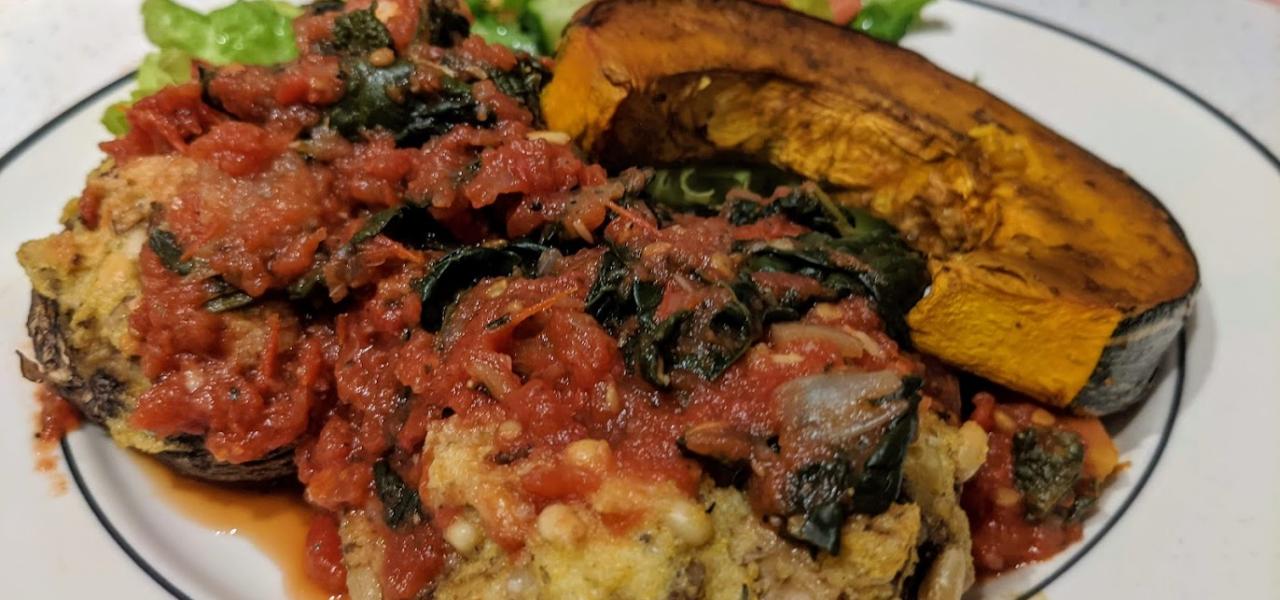 Polenta stuffed portobello mushrooms
Cover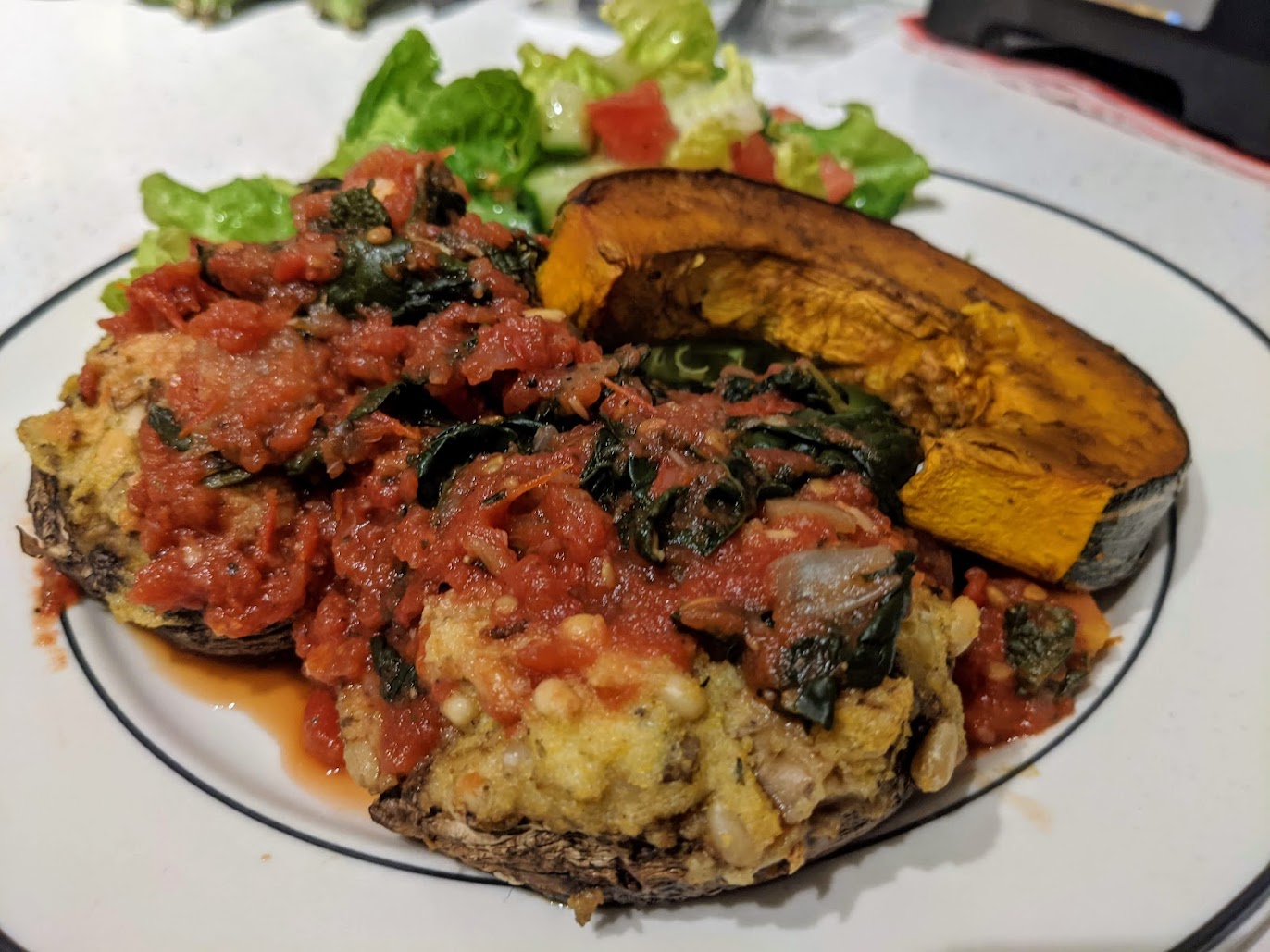 Pictures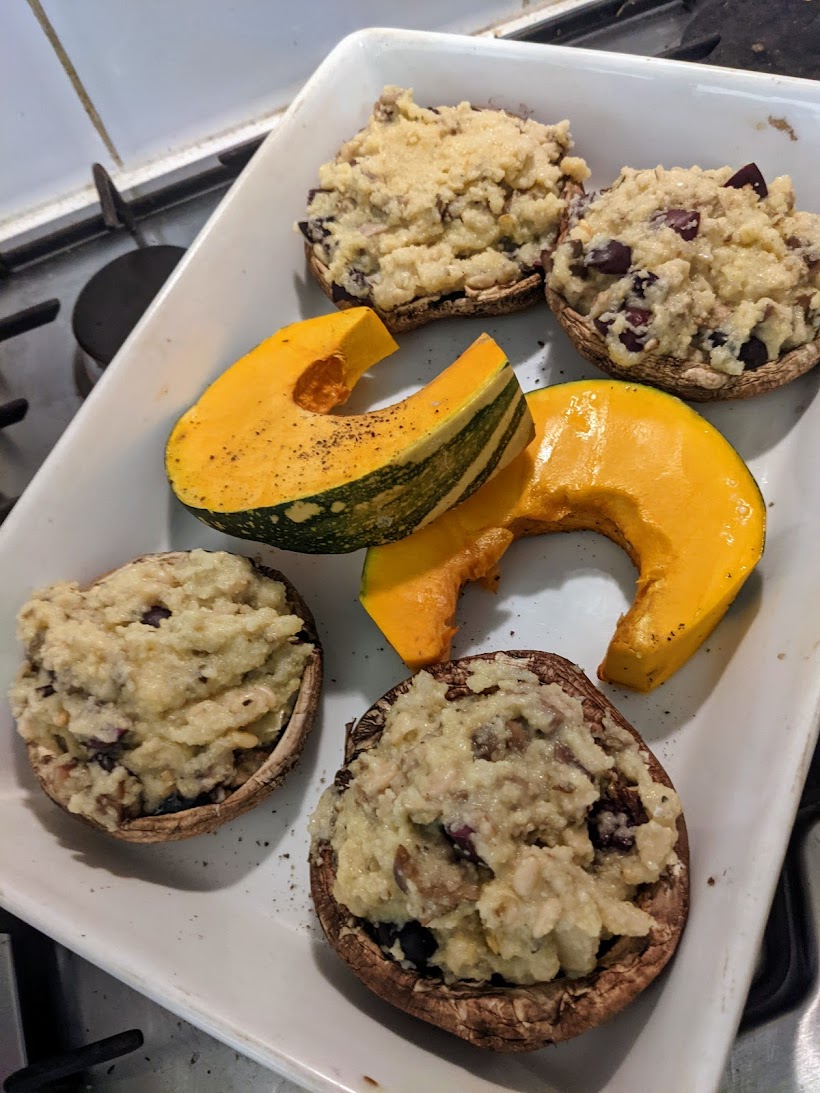 Firstly, you can use any mushroom for this, even a flat mushroom if you want to balance the polenta precariously on top of it.
This recipe looks very impressive on the plate, and the roasted mushrooms go delicious and juicy.
I've put instructions for cooking polenta, but you should probably follow the ones on the packet you bought.
I make this without oil, if you want to add oil, I don't see anyway I can stop you, without you at least. 
Ingredients
8
portobello mushrooms (Large ones about fist sized with a good cup shape. If you can only get smaller ones, buy more.)
1⁄3 cup
Kalamata olives (Halved)
1⁄3 cup
pine nutes (I prefer cashews, but they are less ethical :()
1⁄2 cup
mylk (I generally use an unsweetened soy)
2 cups
Tomato/pasta sauce
Preparation time
25 minutes
Instructions
Wipe the mushrooms down to remove any dirt (or wash them if you are a psycho), remove their stalks and put them in a baking tray with half the salt and pepper on them. Put them in the oven on 180c
In a saucepan mix the polenta with the 2 cups of cold water
Put on a high heat and add the 2 cups of boiling water
Once it is starting to boil, reduce the heat to a simmer and stir
In a couple of minutes it should start to thicken, slowly add the soy milk as it does this
Stir regularly for about 8 minutes and it should be done.
Heat up a pan and then toast the pine nuts or cashews for a couple of minutes, till they get a little bit of brown on them. Careful here, they can burn easily. Remove them from the pan.
Chop the stalks of the mushroom and add them to the pan. Cook them until they reduce down.
Add the olives, mushroom stalks, nuts and salt and pepper to the polenta.
Distribute the polenta mixture amongst the mushrooms.
Pop back in the oven and bake for about 20 minutes, or until the polenta gets a soft crust on it
Heat up your pasta sauce, pop over the mushrooms and you are done.
Notes
Serve with some crusty bread and a green salad.
My roast pasta sauce recipe is a nice easy one for the topping here, and you can utilise the heat of the oven for both if you coordinate it right.