If a man's aspiration towards a righteous life are serious, his first act of abstinence is from animal food, because it is plainly immoral as it requires an act contrary to moral feeling, ie., killing - and is called forth only by greed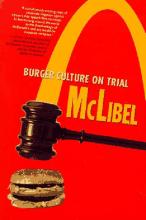 The famous civil court case between the global might of the MacDonalds corporation, and two English vegetarians, is a lesson in how committed individuals can do great things.
What started our with MacDonalds trying to quash public debate about their responsibility to society, turned into MacDonalds worst nightmare, an expose on their labour, animal welfare, environmental and advertising practises. Instead of backing down, two activists decided to defend themselves against one of the largest food corporations in the world.