Why should I care about human rights?
People have the conception of slavery as something from the past. Sadly this isn't true and this article explains the modern face of slavery.
The massacres in Rwanda were an event that touched me deeply, and taught me much about the world. Here are a couple of good summary articles about why the west should also learn from them.
Rape is a form of mass terrorism...The fear of rape keeps women off the streets at night. Keeps women at home. Keeps women passive and modest for fear that they be thought provocative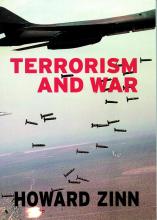 Having been a bomber in World War Two, Howard Zinn is well placed to give a unique perspective on issues of pacifism, violence, dissent and just war in his short interview-based book Terrorism and War.
Zinn in this book reminded me somewhat of Chomsky (who deeply admires and has been heavily influenced by Zinn) with his obviously broad knowledge and recall of statistics, quotes and other evidence.