Brisbane Valley Rail Trail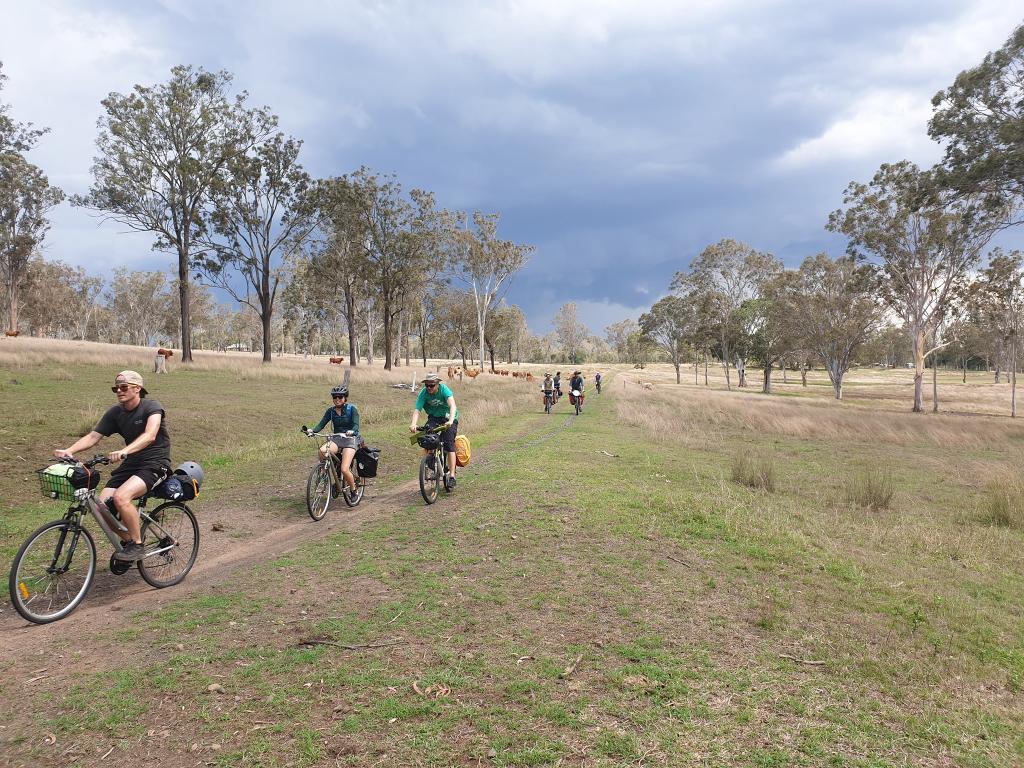 The older I get the more I love cycling.  Moving around the world at a pace where you can still notice small things and getting some exercise.
I'd always loved the idea of doing a trip on bicycles, but wasn't sure where to start and didn't have any partners in crime.
Enter Jeremy and Kim.  Kim does a lot of multi-day hiking trips, Jeremy is an old hand at bicycle touring, and the three of us made a plan together to do an overnight trip to the Brisbane Valley Rail Trail.  This was part two of a four stage plan to do the whole trail, there and back.
Plan to do rail trail
Head out on train for day trip, where we ride for half the day one way, have lunch, ride back to train.  James, Kenny, Kim and myself completed this on 12th September, 2020.
Do overnight tour with tents and camping equipment.  That's this one
Get shuttle to end of trail and ride back over four days.  Maybe when weather cools early 2021.
Do whole trail from start to end, and then end to start.  Maybe winter 2021.
For the overnighter here we headed on the train to Ipswich, and then did 50 kilometres there and back along the rail trail (which technically starts at Wakuraka train station) to the Bellevue Hotel in Coominya.
It was a great bunch of people that headed out, myself, Daniel, Ian, Jeremy, Kim, Simon and the Michaels.  We rode along chatting and enjoying the scenery, passing through fields, farms and some small bits of less cleared forest along the way.  Mostly farmed animals, but we saw plenty of birds and a few kangaroos.
On the first day we experienced perhaps the most intense hail storm I will ever see.  By some crazy luck, it happened whilst we had stopped under some shelter in Fernvale to take lunch.  In two great waves, hail as large as golf balls pelted everything around us, knocking branches off trees.  The noise on the tin roof above us was deafening, we put our fingers in our ears and sat on the tables as hail-stones bounced off the ground up to our faces.  What had been a warm day, suddenly became cold in a matter of minutes, mist surrounded us and we could see our breath when we talked.  It was surreal, and we were a little worried, but once it seemed to calm for a second we got back on the trail, now very wet and covered in debris.  It's funny how coming so close to disaster actually made the whole trip more exciting.
We got covered in mud, but the trail is pretty good, with only one or two spots which caused much trouble.  We arrived at the Bellevue Hotel in Coominya with plenty of time to set up our tents in the light.  We then split into two groups, the vegan dinner club cooking up on the barbeque in the park across the road, the rest heading to the local take away.
It was then a rather wonderful evening in the Bellevue Hotel.  It is the sort of place which can't really exist any more in the city and reminded me of pubs from my childhood.  (Not saying I spent a lot of time in pubs in my childhood).  The eight of us probably doubled the Saturday night takings.  We chatted to the staff, played deluxe Bingo, Keno, drank Toohey's new beer, and watched the handful of locals sit and laugh under a sign which said "Bullshitter's Corner".
There were green frogs all around, including in the shower.  Noisy cars with a headlight missing rolled past us.  It really was a great experience for someone from the inner city, so used to everything being slick and a little corporate, even the places trying not to be so.
Ticking off something I've wanted to do for decades in such style was incredible. 
Credit for photo: Simon Dorotich