Woodford Fire Event with Kenny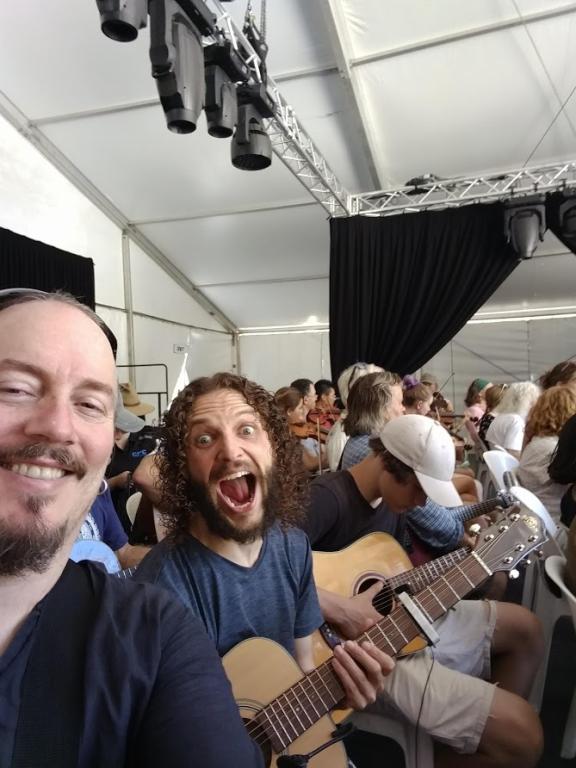 I love the Woodford Folk Festival.  I don't remember exactly when we first went, but I know I spent the millennium new years eve there.
Having always wanted to do the full event, Cathy and I were lucky enough to be offered cheap tickets to man the Wilderness Society Stall in 2014/2015.  I was enthralled, perhaps a little more than Cathy, and being at the event for the full week made me realise that you could participate in a much deeper way.  I only took a ukelele, but I attended a number of guitar workshops, including one on slide which was the impetus I needed to finally learn a little bit of that soulful way of playing the guitar.
Fate stepped in again when my good friend Jeremy was tipped to have a Zine (small, home made magazine) stall at the 2018/2019 event.  He needed people to help on the stall so I happily volunteered.  It was such a great event, this time I took my guitar and participated in the festival orchestra.  Basically anyone who can play an instrument can go along daily and learn the songs to be played in the festival orchestra.  The orchestra, which ends up being quite large, then backs the main band and performers on the night of the Fire Festival.  This is a magical closing event where they burn a lot of the lanterns and structures they have made during the festival.  Around twelve thousand people watch the event, and as myself and a festival friend had to play a special short piece, we got to sit down the front of the orchestra (but still behind the real professional musicians) and apparently I ended up on the big screen a lot.  I partly think that was because I was having a good time and participating in the clapping and singing more than the my fellow orchestra people.
I enjoyed it so much, it was such a great way to start the year that I resolved to do it again the next year.  Kenny was with me the previous year, and I told him a number of times to join in, which happily he did and also bought his girlfriend Cecilia who plays flute as well.
I can't really describe how amazing the experience was after this photo was taken, but it was pure, jubilant joy.  The music that was played was so life affirming and joyous, we could see the whole crowd getting pulled along with it.  Due to the terrible bush fires that had begun to rage in Australia at the time, the Fire Festival didn't have any fire, but it was an amazing an memorable experience.  It culimated in a call to action on climate change, with the flags of all the major climate organisations in Australia being waved around to the tune of Arcade Fire's Wake Up. 
I'm going to play it now.